Vacation enjoyment at the Genusshotel Barbarahof in Saalbach
Austrian delicacies and fine wines
"Wos Hausgmachts und wos Guats" – this is the culinary motto at Hotel Barbarahof. That is why the kitchen of the Genusshotel cooks fresh every day. Our kitchen team ensures daily that only the best ingredients find their way into the Pfandl and into the pots. Regional, healthy and natural they must be. You can taste the quality with every single bite. Just like the attention to detail with which each dish is prepared. The secret behind the pleasure are traditional recipes that come from the old cookbook of grandmother Barbara. In combination with modern approaches and international influences, an excellent taste experience is brought to the plates. Appealing, authentic and absolutely delicious: this is your perfect vacation pleasure at the Gourmethotel Barbarahof in Saalbach Hinterglemm.
Well strengthened into every day of vacation
The start of the vacation day is celebrated anew every morning at the Hotel Barbarahof. As soon as you enter the modern breakfast room, the wonderful smell of fresh pastries makes you want more. Good that the new buffet is already richly covered: Homemade jams, fresh fruit, muesli, freshly squeezed juice, homemade bread and Austrian cheese and sausage specialties let fine gourmet hearts beat faster. In the show kitchen egg dishes are prepared entirely according to the wishes of our guests. And if senior chef Elfriede then also baked her famous spelt-rye bread, it's a real lucky day!
Sweet treat for in between
The pampering program at Hotel Barbarahof also has all kinds of delicacies in store for you in the afternoon. How about a homemade apple strudel? Or would you prefer a piece of cake? In addition, a cup of coffee or a feel-good tea in the cozy fireplace lounge with a view of the mountains. One thing is certain: not only connoisseurs love the freshly prepared pastries of our kitchen team.
A feast in the evening
A four-course menu with three main courses to choose from and once a week a theme evening from the buffet (because alternately there is 1x farmer, and 1x Italian buffet): Dinner at Hotel Barbarahof could hardly be more varied. The carefully selected cooking ingredients come from Austria and the region. For the perfect seasoning, our kitchen team prefers to use the local herbs from our own herb garden. Because sustainability is right at the top of the menu at the Genusshotel. Do you suffer from a food intolerance? Our chef will be happy to discuss this with you personally and create a special menu for you.
Indulgence to go
Are you looking for typical Austrian souvenirs for your loved ones? Then bring some homemade specialties and gifts from your vacation at Hotel Barbarahof! For example, a blackberry liqueur from our own schnapps distillery, dried apple rings from Saalbach Hinterglemm or Grandma Elfriede's homemade candles! By the way: We distill our schnapps (Obstler, raspberry, Williams and rowanberry) according to the tradition of great-grandpa Rudi Steger on our farm "Roana Gut" in Taxenbach.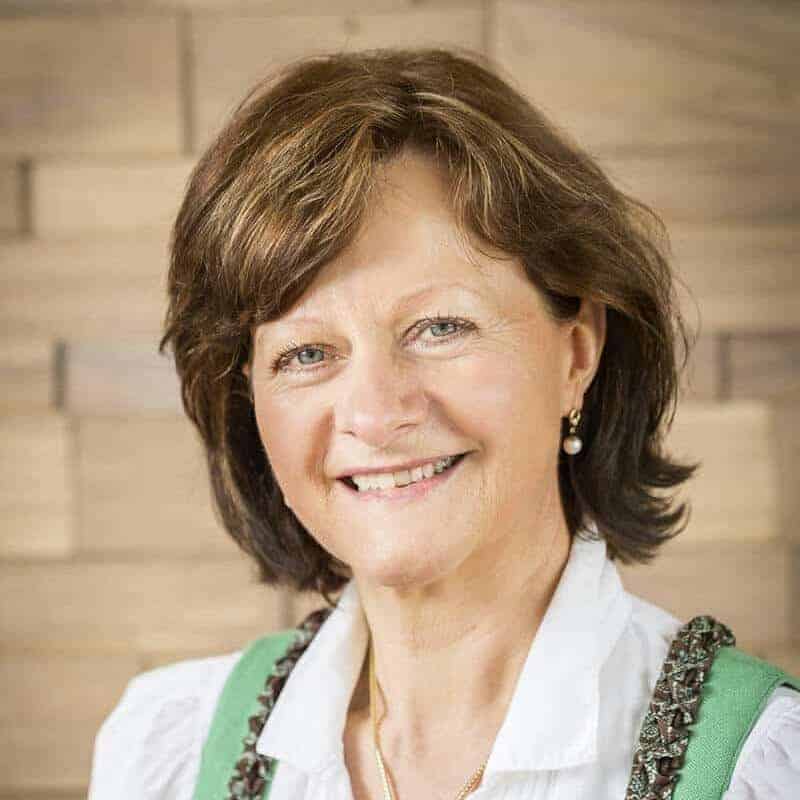 "I learned my basic knowledge of Austrian cuisine from my mother-in-law Barbara over 40 years ago. Since then, I love to constantly develop and improve myself. I am proud to have introduced our guests to the Austrian culinary art for years and that now our new kitchen team continues the culinary tradition. Together, we pay attention to regionality, freshness and versatility."

– Elfriede Steger, senior chef and former head chef
WE COOK FOR YOU:
Vegetarian. Lactose free. Gluten free.
Request now without obligation
Your room at Barbarahof