Bike hotel in Saalbach Hinterglemm
Bike vacation with mountain bike or e-bike
Why our Bike Hotel in Saalbach Hinterglemm is the ideal vacation home for cyclists, mountain bikers and e-bikers? Well, there are numerous reasons. For example, because it is located in the middle of the natural paradise of the Austrian Alps. Because Chef Roland is a trained bike guide and can give you the best tips for your tours in the mountains. Because there is a lockable bike garage and bike and mountain bike rental at the bike'n soul hotel. And of course, because there is a mini-pumptrack in the garden and a dedicated biker zone with bike wash station and mounting stands. That's not enough? Then get to know the countless routes in the mountains and valleys of Salzburger Land and you will notice: For a biking vacation in Saalbach Hinterglemm you are exactly right at the Hotel Barbarahof!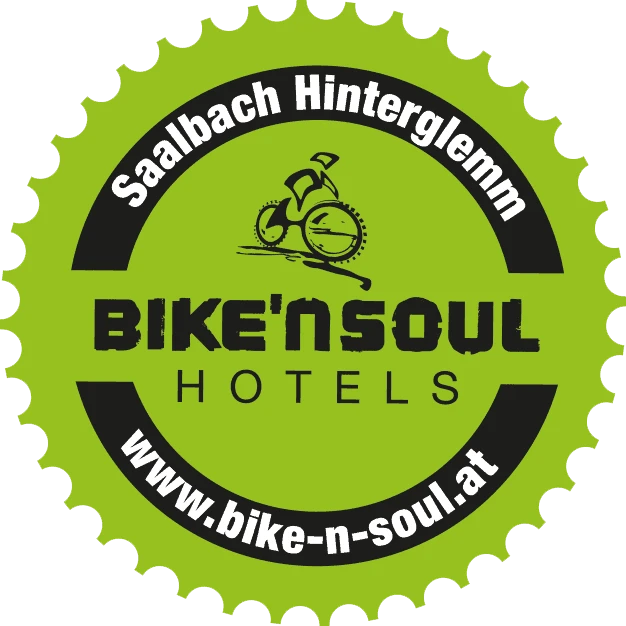 Summer holidays in Austria's number one bike region
Saalbach Hinterglemm is not for nothing the leading bike region in Austria – and our bike'n soul hotel is right in the middle of it! Look forward to more than 400 kilometers of mountain bike routes, single trails, freeride trails, e-bike tours and much more. Daring jumps, steep curves and stony passages included. All this makes biker hearts beat faster. Beginners and professionals of all ages are welcome at our bike hotel in Saalbach Hinterglemm.
With the mountain railways to the summit
The starting point of many bike routes are the peaks of the Alpine world. With the mountain railroads you can get to the top quickly and comfortably during your biking vacation in Saalbach Hinterglemm.
Tip: With the exclusive JOKER CARD in your luggage, the ride to the summit is free twice a day – bike transport included. You will receive the card from May to October upon arrival at bike'n soul Hotel Barbarahof. For even more biking fun in Saalbach Hinterglemm and in the Epic Bikepark Leogang you get -20% on the bike ticket with the JOKER CARD.
These mountain railroads transport you directly to the biker's paradise:
Reiterkogelbahn: from Hinterglemm to the Reiterkogel
Kohlmaisgipfelbahn: from Saalbach to the Kohlmais
Zwölferkogelbahn: from Hinterglemm to the Zwölferkogel
Schattberg-X-Press: from Saalbach to the Schattberg
Schattberg Sprinter: Connection from the Schattberg-X-Press to the Westgipfelbahn
Westgipfelbahn: from Hinterglemm to the Schattberg west summit
Asitzbahn: from Leogang up to the Asitz
Steinbergbahn: from Leogang to the Asitz
Once you reach the top, first of all take your time to enjoy the fantastic mountain panorama. And then the fun can begin on your bike vacation in Saalbach Hinterglemm!
Inclusive services for all bikers
Secured bike garage
Bike stand, wash & service area with repair tools
Guest laundry (for a fee)
Drying room for clothes and shoes
Assistance with route planning
Rental bikes all-mountain to downhill (for a fee, organized by the hotel).
Scott e-bike rental (for a fee) at Hotel Barbarahof
10% discount on rental in the bike'n soul shops
The Barbarahof is a BIKE'N SOUL hotel
What does that mean? Mountain bikers enjoy when booking a BIKE'N SOUL PACKAGES even more advantages on your bike vacation in Saalbach Hinterglemm:
Daily up to 4 guided MTB tours with the bike'n soul guides (except Sundays)
Daily Bike technique training with the bike'n soul guides (except Sundays)
Freeride Guide for Kids exclusively in the bike'n soul hotels (except Saturday and Sunday)
Bike Info Corner
Tour map with roadbook of the bike region Saalbach Hinterglemm Leogang
Free download GPS tours
free sports laundry service (from 14:30 you get guest laundry jetons)
Energy package with sports bar, fruit and Barbarahof water bottle
1 free bike ́n soul jersey (from 7 days package)
15% discount on rentals in the bike'n soul Online Rental Shop or 10% on rentals in the bike'n soul stores
You are welcome to join the tours without the Bike'n Soul package for an extra charge of 35.00 Euro per tour!
Recommendations mountain bike rental in Saalbach Hinterglemm
Bike'n Soul (Reiterkogel Hinterglemm)
Rabbit Sports (Zwölferkogel Hinterglemm)
Skill SantaCruz Bikeshop (Mitteregg Hinterglemm)
Sport Hagleitner (Schattberg Saalbach)
Bründl Sports (Center Saalbach)
An overview and the links to the bike stores can be found here
IMPORTANT => We recommend you to reserve your mountain bike in advance (online or by eMail) directly at the Bikeshop !
Request now without obligation
Your room at Barbarahof